1. Minnale
Director: Gautham
Cast: Madhavan, Abbas, Reema Sen
Music: Harris Jayaraj

'Tis the season for lovers, and this film has been timed right. Minnale is a teenage love story that promises to be different and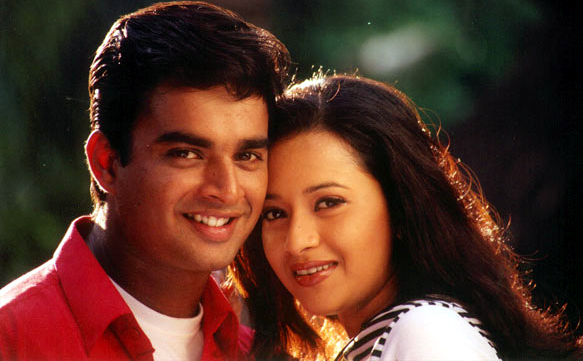 actually is, thanks to the racy narration and treatment by debutant Gautham, who holds the credentials of having assisted Mani Rathnam earlier. That is an indication of the superlative quality of the film.

The film is about two college mates, Rajesh and Samuel, (Madhavan and Abbas), who are actually members of rival gangs. Samuel takes off to the US for higher studies, while Rajesh lands himself a job in Bangalore. He meets Reema Sen, and is smitten by her charm. He sees her repeatedly after that, even when he returns to Chennai.
Rajesh puts his best foot forward and decides to propose to Reema on the hearts and candy day, Valentine's Day. But like we all know, Reema already has a beau, and no prizes for guessing who it is! Rajesh then decides to attach the US tag to his name, and what follows is pure fun!
The plot is old wine in a new bottle, but the director, thanks to his advertising background, has managed to give it some slick touches. The film is fairly engaging. The songs go well with the whole look and feel of the film, and this makes for an interesting first half. But the latter half is a disaster, and leaves a bitter taste in the mouth.
Madhavan is miles ahead of his first film Alaipayuthey, and has picked his role well. Abbas seems to have matured as an actor. Reema Sen is supremely confident for a first-timer, and seems adequate in all aspects. The music by yet another debutant, Harris Jairaj, packs some zing, but the songs could have been handled better visually.
But these are small creases to iron out. On the whole, Minnale comes as a breath of fresh air to the Tamil silver screen.
(source:indya.com)